David I. Ketcheson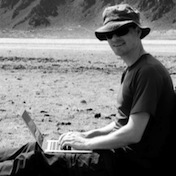 I am a Professor of Applied Mathematics and Computational Science at King Abdullah University of Science and Technology (KAUST), where I lead the Numerical Mathematics Group.
My research involves analysis and development of numerical methods for integration of ordinary and partial differential equations, as well as the implementation of such methods in open source, accessible, high performance software and its application to understanding behavior of nonlinear waves in heterogeneous materials.
Office: 4202 Al-Khawarizmi Building
Email & online networks: linked from icons below.

Subscribe
Find me on the social web: